GPS Tracker Bsierad – Pagi ini saya masih di sibukkan dengan belajar menggunakan GPS tracker buatan meitrack MVT800. GPS tracker ini, diimplementasikan pada kendaraan bermotor atau mobil pribadi  dan banyak lainnya. Fitur yang di tawarkan oleh GPS tracker Meitrack MVT800 ini seperti berikut
Meitrack MVT800 GPS Car Tracker with Remote Controller (Optional) and Support Camera & Fuel sensor
REPORT SMS WITH GOOGLE MAPS LINK
GPS/GSM (LBS) TRACKING
8M GPS LOGGING
Not only report latitude and longitude, but also link for quick access to Google maps on your smart phone.
Dual tracking mode helps you track by GSM station while no GPS signal.
Monitor and manage the vehicle by historical report. It can record the data for 6 months by 3 minutes interval.
50 CHANNELS
GPS SENSITIVITY: -161dB
More accurate and faster to get signal from satellite
ENGINE CUT
DOOR/ACC DETETCION
PULSE SPEED DETECTION
Immobilize the engine remotely
Detect the status of vehicle's engine and door for anti-theft.
Connect with vehicle speed sensor for more accurate speed report.
ARM/DISARM BY WIRELESS REMOTE CONTROL
BUZZER ALERT
Anti-thief and protect vehicle conveniently.
MEITRACK FAMILY
GPS TRACKING SYSTEM MS02
GPS/GSM (LBS) tracking
I/O status dynamic display
Polygon Geo-fence
Group command sending
Route deviation alarm
More than 20 language versions
Mao: OSM, Google, Bing, MapABC
APP for smartphone
Tracking
On demand, time interval, distance interval
Report
Mileage, alarm, history, speed, parking, sensor, RFID, input, picture
Alarm
SOS, Geo-fence, GPS blind spot, low battery, speeding, tow, GPS antenna cut, external power cut
OTA
Upgrade firmware over the air
| Items | Specifications |
| --- | --- |
| Dimensions | 90*65*32mm |
| Weight | 220g |
| Input Voltage | DC 11V~36V/1.5A |
| Back-up Battery | 850mAh/3.7V |
| Power Consumption | 85mA standby current |
| Operating Temperature | -20°C~55°C |
| Humidity | 5%~95% |
| Work Time | 36 hours in power-saving mode and 8 hours in normal mode |
| LED | 2 LED Lights to show GPS, GSM and other Status |
| Button | 1 SOS and 1 power on/off |
| Microphone | External connection (Optional) |
| `Memory | 8M |
| Sensor | Motion sensor |
| GSM Frequency | GSM 850/900/1800/1900MHz |
| GPS Chipset | Latest U-Blox chipset, 50 channels all-in-view tracking |
| GPS Sensitivity | -161dB |
| Accuracy | 10 meters |
| GSM/GPS Antenna | SMA external connection antenna |
| I/O | 4Digital Inputs(1 SOS, 1 positive,1 door trigger, 1 ACC detection)1 Input (pulse speed detection)2 Outputs(1 buzzer alert,1 remote engine cut)1 Analog Input1 Input for digital temperature sensor1 USB232 interface1Wireless Remote Control (433Mhz) |
Berikut ini adalah hasil uji coba yang saya lakukan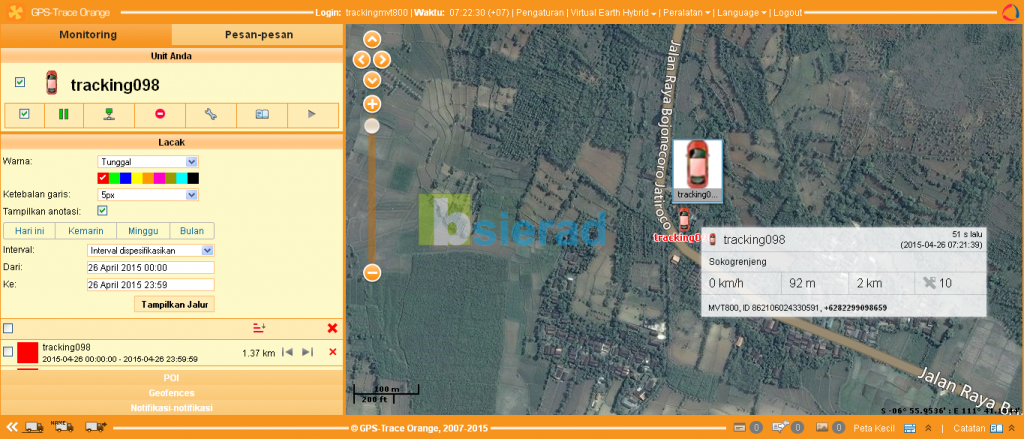 Cukup sekilas dulu ya kawan-kawan. Tunggu informasi selanjutnya mengenai diskusi GPS Tracking